Worm Guy Alien

Earth Name

Unknow

Indigenous Name

Unknown

Earth Disguise

Unknow

Actual Species

Unknow

First Appearance

Continuity

Films

Home Planet

Unknow
Is a alien of unknow species.
He is seen coming to the area of passport after a journey of millions of miles and arriving Jay intended to touch him but Kay stopped him do it because he was enraged by the trip.
Description
It is an alien resembling a caterpillar with several mobile tips and with a kind of antennas in the head.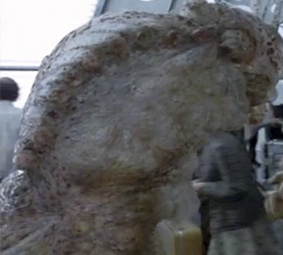 Ad blocker interference detected!
Wikia is a free-to-use site that makes money from advertising. We have a modified experience for viewers using ad blockers

Wikia is not accessible if you've made further modifications. Remove the custom ad blocker rule(s) and the page will load as expected.