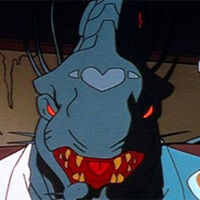 Spacedemon is an actor and director alien that works in Hollywood.
Animated series
He only appears in "The Star System Syndrome" when is interrogate by MIB for the disappearance of several alien actors. He became a prime suspect after revealing his hatred of the Predeterminator and Prey for stealing his spotlight, Etalffap for making a joke about him, and he can't stand the Astrotots; though Kay isn't convinced the Spacedemon is the culprit. It turns out he's not responsible for the disappearances after all, and it's discovered that the Astrotots are and finally he and MIB stop them. He takes a liking into Annet, the only Astrotot who realized her brothers have gone too far.
Ad blocker interference detected!
Wikia is a free-to-use site that makes money from advertising. We have a modified experience for viewers using ad blockers

Wikia is not accessible if you've made further modifications. Remove the custom ad blocker rule(s) and the page will load as expected.