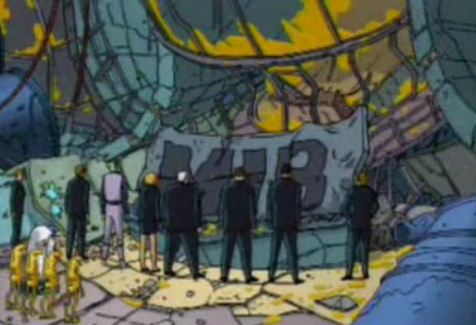 Season Four was the fourth and final season of Men in Black: The Series. The season began on September 6, 2000 with "The Musical Chairs Syndrome", and ended on June 30, 2001 with the series finale "The Endgame Syndrome, Part 2". Season Four brought major changes to the show. Elle became an agent with a new alien, Agent X, and her voice actress changed. Replacing Elle was Dr. Zeeltor, a genius alien. Also, the Worms received a much larger role in the series.
Episodes
#
Title
Writer(s)
Director
Original airdate
Code
41
"The Musical Chairs Syndrome"
Dean Steffan
Curt Walstead
September 16, 2000
405
Changes abound at MIB as Dr. Zeeltor takes over in the lab for Elle, who has become a field agent and gotten partnered with an alien named Agent X. As these new changes set in, MIB has to stop New York from being devoured by a Barooga.




42
"The Spectacle Syndrome"
Marsha Griddin
Chuck Drost
September 23, 2000
403
Jay and Kay have to rescue the worms from an alien world similar to Ancient Rome.




43
"The Back to School Syndrome"
Len Uhley
Michael Goguen
September 30, 2000
404
Jay poses as a high school student to protect an alien prince from alien terrorists.




44
"The Opening Gambit Syndrome"
Steven Melching
Chris Dozois
October 7, 2000
406
Thirty years ago, an Ixion named Vangus came to Earth and was stopped by an MIB agent. Now when Vangus returns, MIB seeks answers from the agent that stopped him: Alpha.




45
"The Future's So Bright Syndrome"
Tom Pugsley & Greg Klein
Chris Dozois
October 21, 2000
401
During pursuit of a large criminal Worm, Jay gets sent to the future and finds that the Worms rule all of Earth.




46
"The Loose Ball Foul Syndrome"
Alexx Van Dyne
Chris Berkeley
April 14, 2001
407
The Fmeks are back and trying to take over a tiny planet that resembles a baseball. To make matters worse, Kay is on the tiny planet and things are getting very hot.




47
"The Hots for Jay Syndrome"
Muchael Edens
Chuck Drost
April 21, 2001
410
After eating some alien food, Jay gains the ability to throw fire. But this new power will have serious consequences if he keeps using it.




48
"The Circus Parade Syndrome"
Julia Lewald
Curt Walstead
April 38, 2001
409
A member of a witness protection program for aliens is on the run from an intergalactic gang called The Association when they discover he's on Earth.




49
"The Virtual Crossfire Syndrome"
Dean Stefan
Chuck Drost
May 5, 2001
408
Jay gets a low score on MIB's new virtual reality training test and the embarrassment eventually forces him to try again. But this time the game goes haywire and the dangers Jay faces become deadly.




50
"The Breaking News Syndrome"
Marsha Griddin
Curt Walstead
May 12, 2001
411
An alien TV crew comes to Earth to film MIB agents on the job, just as Drekk returns to cause trouble.

Note: This episode is no longer shown in America due to the ending taking place at the top of the World Trade Center and having eerie similarities to the events of 9/11. There is a scene where X and Drekk fall from top of Tower 2, there is a scene where Drekk fires fire balls on top of Tower 2 causing explosions and J stating that his brilliant plan to save the day was called "code 911".




51
"The Zero to Superhero Syndrome"
Baz Hawkins
Curt Walstead
May 26, 2001
402
A super-hero calling himself Cosmosis emerges to defend the city from evil, but he's really an alien looking to put his powers to good use. However, MIB feels his new profession could attract trouble for Earth, so they try to lure him out using Jay as bait.




52
"The Endgame Syndrome, Part 1"
Dean Stefan
Chris Berkeley
June 23, 2001
412
Alpha, Vangus and the Ixions return to Earth, working together to threaten all life on the planet. With invasion imminent, Zed decides to reveal MIB's existence to the world.




53
"The Endgame Syndrome, Part 2"
Dean Stefan
Chuck Drost
June 30, 2001
413
With MIB having success in coordinating resistance against the invasion, the Ixions plan to unleash a weapon that will kill everyone on Earth. Jay and Kay will fight Alpha and Vangus in the final battle for humanity.
Trivia
Due to the changes and the events of the Season Three finale, it is thought that a fourth season was not supposed to happen.
Ad blocker interference detected!
Wikia is a free-to-use site that makes money from advertising. We have a modified experience for viewers using ad blockers

Wikia is not accessible if you've made further modifications. Remove the custom ad blocker rule(s) and the page will load as expected.