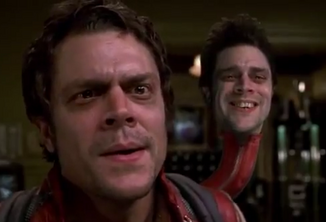 Scrad is an alien of an unknown species that helped Serleena during her search for the Light of Zartha. Scrad has another head coming out of his backpack (Charlie), although it is the same head, and just a long neck. Scrad is basically a moron, not realizing when people are talking to him, or telling him what to do. Serleena knew Scrad and Charlie, as she came right to him when she came to Earth. They worked together in the infiltration of the Men in Black Headquarters. Scrad and Charlie are both portrayed by Johnny Knoxville.
Trivia
Midway through Men in Black II, Scrad and Charlie just seemingly disappear without explanation. It could be so that because Charlie felt sick, they quit working for Serleena, K killed them in a scene that was cut or Serleena ate them after they were done being useful.
Appearances
Ad blocker interference detected!
Wikia is a free-to-use site that makes money from advertising. We have a modified experience for viewers using ad blockers

Wikia is not accessible if you've made further modifications. Remove the custom ad blocker rule(s) and the page will load as expected.