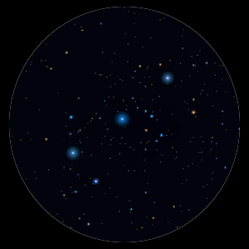 Orion's Belt
is a series of three stars in the sky constellation, Orion. The belt is made of the three stars, Alnitak, Alnilam, and Mintaka. In
Men in Black (film)
,
Gentle Rosenburg
, a dying
Arquilian
, tells
Jay
that the
Arquilian Galaxy
is on Orion's Belt. Back at
MiB
, Jay,
Kay
,
Zed
, and the twins ponder how a series of three stars could contain a Galaxy with billions of stars. However, after a talk with
Frank the Pug
, Jay realizes that a Galaxy could be tiny. He also discovers that the Galaxy was on Rosenburg's cat,
Orion
's collar.
Trivia
When the agents look at the belt on the computer, the three stars order is reversed, and Alnilam is misspelled.
Appearances
Ad blocker interference detected!
Wikia is a free-to-use site that makes money from advertising. We have a modified experience for viewers using ad blockers

Wikia is not accessible if you've made further modifications. Remove the custom ad blocker rule(s) and the page will load as expected.