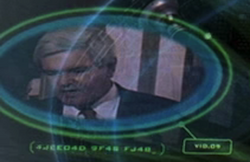 Newton Leroy "Newt" Gingrich born Newton Leroy McPherson; June 17, 1943 is an American politician, author, and political consultant. He represented Georgia's 6th congressional district as a Republican from 1979 until his resignation in 1999, and served as the 58th Speaker of the U.S. House of Representatives from 1995 to 1999. Gingrich was a candidate for the 2012 Republican Party presidential nomination.
He was uncredited as an alien on a TV Monitor which was shown to Agent J by Agent K in Men in Black.
Ad blocker interference detected!
Wikia is a free-to-use site that makes money from advertising. We have a modified experience for viewers using ad blockers

Wikia is not accessible if you've made further modifications. Remove the custom ad blocker rule(s) and the page will load as expected.