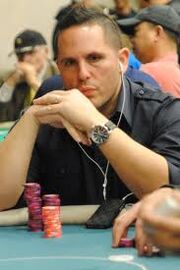 Michael Soccio (Born 28 August 1968) was a writer and his first writing job was on the hit series, Fresh Prince of Bel-Air, The" (1990) and since then he worked doing re-writes on such hit feature films as "Men in Black II" and has also written episodes of the CBS sitcom "The King Of Queens". He has just sold a comedic screenplay co-written with Jon Favreau, Kevin James and Will Smith, titled "The Assistant" to Columbia/Tri-Star pictures. He also was working on a new screenplay titled "The Sauce" in 2003.
Ad blocker interference detected!
Wikia is a free-to-use site that makes money from advertising. We have a modified experience for viewers using ad blockers

Wikia is not accessible if you've made further modifications. Remove the custom ad blocker rule(s) and the page will load as expected.