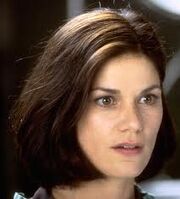 Linda Fiorentino (born March 9, 1958)[1] is an American actress. She is best known for her roles in the films Dogma, Vision Quest,
Men in Black
, After Hours and The Last Seduction. For her performance in The Last Seduction she won Best Actress awards from both the New York Film Critics Circle and the London Film Critics Circle. She was also nominated for a Best Actress Bafta Film Award.
Appearances in the Men in Black Series Men in Black (film) as Laurel Weaver/Agent L
Ad blocker interference detected!
Wikia is a free-to-use site that makes money from advertising. We have a modified experience for viewers using ad blockers

Wikia is not accessible if you've made further modifications. Remove the custom ad blocker rule(s) and the page will load as expected.