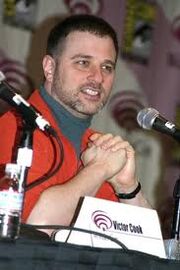 Greg Weisman (born September 28, 1963 in Los Angeles, California) is an American comic book and animation writer and producer, best known as the creator of Gargoyles and as the Supervising Producer of The Spectacular Spider-Man. Weisman is currently a producer on the Young Justice animated series. In addition, Weisman wrote the script for DC Showcase: Green Arrow, an animated short feature that is included on the DVD for the film, Superman/Batman: Apocalypse.
Weisman has written for numerous animated series, including Men in Black: The Series
Influences and style
There has also been an affinity for casting actors involved with the Star Trek franchise in his series. Some have included Nichelle Nichols, Marina Sirtis, Brent Spiner and even Bruce Greenwood from the latest Star Trek film.
Ad blocker interference detected!
Wikia is a free-to-use site that makes money from advertising. We have a modified experience for viewers using ad blockers

Wikia is not accessible if you've made further modifications. Remove the custom ad blocker rule(s) and the page will load as expected.