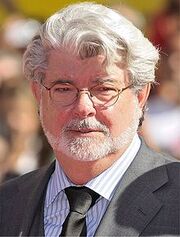 George Walton Lucas, Jr.
(born May 14, 1944) is an American film producer, screenwriter, director, and entrepreneur. He is the founder, chairman and chief executive of Lucasfilm. He is best known as the creator of the space opera franchise Star Wars and the archaeologist-adventurer character Indiana Jones. Lucas is one of the American film industry's most financially successful directors/producers, with an estimated net worth of $3.2 billion as of 2011.
Made a cameo in  Men In Black. (original.)
Ad blocker interference detected!
Wikia is a free-to-use site that makes money from advertising. We have a modified experience for viewers using ad blockers

Wikia is not accessible if you've made further modifications. Remove the custom ad blocker rule(s) and the page will load as expected.