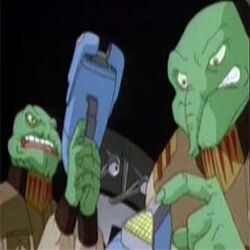 Ebel and Kel
are members of
Kalifadik
who had a mission of arrest any of all people that travel in their planet that see for them bad.
Animated Series
They only appears in The Worm-Guy Guy Syndrome, two of this official execute the mission of arrest all aliens that travel in his planet in his activities one of they are arrest and other is defeat by jay and worm without mention that is knock by other aliens.
Ad blocker interference detected!
Wikia is a free-to-use site that makes money from advertising. We have a modified experience for viewers using ad blockers

Wikia is not accessible if you've made further modifications. Remove the custom ad blocker rule(s) and the page will load as expected.