Ad blocker interference detected!
Wikia is a free-to-use site that makes money from advertising. We have a modified experience for viewers using ad blockers

Wikia is not accessible if you've made further modifications. Remove the custom ad blocker rule(s) and the page will load as expected.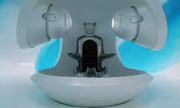 A
De-Neuralyzer
is a special device that reverses the effects of a
Neuralyzer
. Although a neuralyzer is operated by a small flash of light, a de-neuralyzer is much more complicated. There are only two known De-Neuralyzers in existence. The first is the one in the
MiB
, and the second is in the basement of
Jeebs
' pawn shop. Jeebs' De-Neuralyzer was taken off of the Internet, and was even more complicated. Jeebs' machine acted like
Rube Goldberg Machine
, and even after that, the effects were not instant. With Jeebs' machine, it takes several minutes for a subject's memory to return. According to Jeebs, this is because he doesn't have updated software for the device that otherwise would allow immediate return.
Appearances