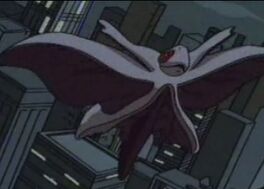 Charnocks
are a strange species of unknown planet that appears in the Animated series.
Animated Series
One of this species appears in The Irritable Bow-Wow Syndrome landing in the earth and change his skin in the process after with a suit human go to shop Jeebs for obtain a Void Density with evil plans but this eats by Frank desperate by obtains Frank seeks to recover but black men are arrested after capture Frank and tries to get it but once outside frank altered his weapon is destroying it completely.
Ad blocker interference detected!
Wikia is a free-to-use site that makes money from advertising. We have a modified experience for viewers using ad blockers

Wikia is not accessible if you've made further modifications. Remove the custom ad blocker rule(s) and the page will load as expected.