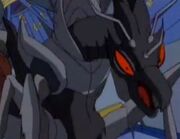 The
Bug Queen
is the queen of all
Bugs
. She sends
Edwin
to go get whoever killed
Edgar the Bug
during his quest for the
Arquilian Galaxy
. Edwin finds
Elle
after a short quest (Elle gave the final shot to Edgar), and kidnaps her. Then
Jay
,
Kay
, and the
Worms
find Elle and Jay, Kay, and Elle are captured. Luckily, the Worms revive some betrayed bugs, who kill Edwin before they are taken to the Queen. However, the Queen and some Bugs would return. She only craves sugar. In her appearances, she is voiced by
Vincent D'Onofrio
.
Actual Appearance
In The Mine, Mine, Mine Syndrome, many other Bugs come to Earth. They protect the Queen who is disguised as a small girl, and came to Earth to lay her eggs. However, she encounters the Emperor Worm, when she reveals her true form. After a quest, Kay, Jay, and Elle are able to save the Worm, and destroy the Queen's eggs and larvae. The Queen then falls into a pool with a neon sign which electrocutes her. Finally, the agents freeze the Queen.
Appearances
Ad blocker interference detected!
Wikia is a free-to-use site that makes money from advertising. We have a modified experience for viewers using ad blockers

Wikia is not accessible if you've made further modifications. Remove the custom ad blocker rule(s) and the page will load as expected.