Beatrice
is the wife of
Edgar
featured in
Men in Black
. She lived with her very abusive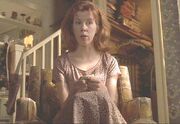 husband in a small house at their farm. Edgar was then killed by
a Bug
and the Bug stole his skin. Beatrice quickly saw the problem and reported it to the news and was ridiculed.
Agent J
and
Agent K
then got all the information they needed from her, then
neuralyzed
her. They left her with the request to move on and find a new life.
Appearances
Ad blocker interference detected!
Wikia is a free-to-use site that makes money from advertising. We have a modified experience for viewers using ad blockers

Wikia is not accessible if you've made further modifications. Remove the custom ad blocker rule(s) and the page will load as expected.