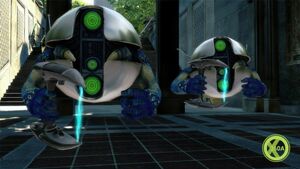 Some races find it foolish to put their own kind on the battlefield. Instead, they buy robotic fighters that are cheaper and easier to replace. This particular alien drone is the most popular product of the species known as the Knok. All units have a basic package of upgradable electronic firepower and are easy to transport.
Ad blocker interference detected!
Wikia is a free-to-use site that makes money from advertising. We have a modified experience for viewers using ad blockers

Wikia is not accessible if you've made further modifications. Remove the custom ad blocker rule(s) and the page will load as expected.