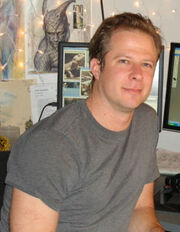 Adam Adamowicz was a conceptual artist and painter known for his works on Fallout 3 and Skyrim. For The Men in Black, Adamowicz was the cover artist for the three issues of The Men in Black Book II. He also worked on the Alien Nation comics, which were also made by Lowell Cunningham.
Adamowicz passed away on February 10, 2012.
Ad blocker interference detected!
Wikia is a free-to-use site that makes money from advertising. We have a modified experience for viewers using ad blockers

Wikia is not accessible if you've made further modifications. Remove the custom ad blocker rule(s) and the page will load as expected.